May 7, 2020
yeah, well, that last post didn't turn out so prophetic ...
February 16, 2020
Italy Tour update ... don't have the actual itinerary yet but i will be back in Italy for a tour running from March 23rd til April 6th ... psyched to be back making music with my buddy Paolo Ercoli ... also, If You Fall is still on the Folk-DJ charts!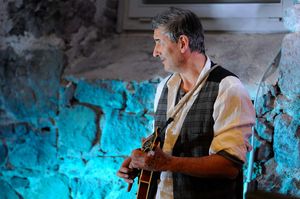 January 28, 2020
First off, Happy New Year and New Decade!!! OK, a little late there but what else is new?
So far it's a good year ... i just returned from an actual vacation with my wife, Deb, in the California desert ... even left my guitar at home and dug in for some serious battery recharging ... now?  Back to work!
Been working on a couple of new tunes, one called reach out and another called different hearts different days ... compiling songs to release on an EP later in the spring ... also working on a video project called "like the tune? feed a kid" ...
Heading back to Italy in April ... also looking at trips to Texas and the West Coast ...
yup, the "why stop now?"  tour continues!!!
December 1, 2019
Leaving in the morning for three house concerts in Florida this week ... Wednesday and Friday in Fort Myers and Saturday in Sebring ... message me for details if you are in the area and want to attend ...
Also will get to visit with my brother and also a visit with good buddy and co-writer of "dirty wine", Annie Wenz
The celebration of Dalis Allen in Texas was great ... got to visit with and hear old friends like Dan Navarro, Rj Cowdery, the Flyin' A's, Bob Livingston, Joe Jenks , Michael Bowers & Siobhan Quinn, Sonia (disappear fear) and a whole bunch of other great writers and performers ....
CD's still getting a lot of airplay ... #5 on the Euro Americana chart in October and # 13 on the Folk-DJ chart here ...
November 21, 2019
Well, here I be, another year older and hopefully a wee bit wiser
The Ronny Cox ceremony went well ... i gave a pretty good speech
Now I'm off to Austin in the morning to a celebration of one of my favorite people, former Kerrville festival producer Dalis Allen
Then a day of Thanksgiving back home in Santa Fe ...
A run to Florida for three house concerts and a little sun (it's snowing here today!) follows in early December then back to home to continue writing new tunes .... hoping to record when i'm in Italy in February, i have some brilliant musician friends there
All in all, it is indeed a wonderful life and I am sooooo grateful
Oct 29, 2019
So much good stuff going on!  The album is doing really well.  It debuted on the EuroAmericana chart last month at #5 and is set to appear on the US FolkDJ chart in a few days ... we are anticipating that it will do well.
Later this week I will have the distinct honor on inducting my old buddy Ronny Cox into the New Mexico Music Hall of Fame.  It's going to be a big ceremony taking place at the Kimo Theater in Albuquerque ... and I am a bit of a nervous wreck about having to make a speech without a guitar in my hands ...
I'm off the road for another month, a month I will use to write more tunes.  Then it's off to a Florida run in December.  It looks like I will be returning to Italy in February where I hope to record a few of those as yet unwritten new songs with some of my Italian musician friends. And looking further down the road, i am booking a tour of the upper Midwest in the late spring.
The adventures continue ... and I'm still one damned lucky guy!
Sept 15, 2019
Yup!!!! Just a few more days til the Oct 1st release ... the album is getting some good reviews in Europe and has already appeared on the Euro-Americana chart ...
A further adventure begins!!!!! Stay tuned ...
July 19, 2019
In the middle of the Italy tour.  It's going great! The new CD is doing well, the gigs are great and the audience response is awesome! And I am in Italy!!! What's not to love?
July 4, 2019
OK, then, the new album, if you fall, has been released in Italy and is already making some noise.  My cover of Francesco de Gregori's Rimmel has already been featured on RAI, Italy State TV and continues to get airplay around the country. I will be on a plane in two days for a three week tour with my Italian band, Paolo Ercoli.  Can't wait to get back there.  There will be another set of dates in Texas later in the year and in December the tour heads to Florida.
Here are some of the Italian dates ... more will be added in the next few days.  yup, it's a hell of a life!!!!

9 DE GREGORI SHOW - TORINO
10 VAIRANO (SWISS) - CAMPAGNOLA
12 SOMMA LOMBARDO (VA) - PIAZZA POZZO
13 MOCONESI (GE) - CALIGOLA
14 PIAN DI SCO (AR) - MACELLERIA BUCCIANTI
16 SUVERETO (LI) - ESTATE NEL BORGO
17 MILANO - SPIRIT DE MILAN
18 CANTU (CO) - CORTE SAN ROCCO
19 GROSSETO - PODERE 684
20 MARINA di MASSA - THE SECRET GARDEN
21 TERNATE (VA) - BUSCADERO DAY
22 CASTELVETRO (MO) - LAMBRUSCHERIA
24 FIRENZE - TEATRO DEL SALE
26 GIGLIO PORTO (GR) - DA RUGGERO
27 GIGLIO CASTELLO (GR) - FRASCA DELL'ALTURA
28 PASSOCURO (ROMA) - LAMPARA
29 VASTO - ViA ADRIATICA
May 26, 2019
oh my, i have really been neglecting this site but that changes NOW!
the first big news is that while i've been away, i spent part of my time at the Kitchen Sink Recording Studio with producer Jono Manson recording my 11th full length album, if you fall ... this project was recorded with a whole new band featuring keyboards & accordion by Radoslav Lorkavić, drummer Paul Pearcy, bassist Ronnie Johnson and multi instrumentalist Jon Graboff plus a bunch of guest artists ... i could not be more proud of the results ... the album gets released tomorrow in Italy on Appaloosa Records who will have an exclusive for a few months ... the album will be released here later in the summer
next up on the tour front is a tour of Italy in July ... i'll post the details as soon as i have them ...
there will be new additions to this site in the very near future ... please sign up for the email list and i'll tell you all about them!
and if you look to the left you'll see a link to the first single released in Italy, a cover/translation of a song by legendary Italian singer-songwriter Francesco de Gregori ... have a listen!
March 17th, 2019
And a happy St Patrick's Day to you, too ...
Where the hell have i been, you ask?
Well, stay tuned and I'll tell you all about it ... a little later ...
August 7, 2018
Good news!  I have been selected by the Southwest Regional Folk Alliance as one of their official showcase artists at this year's soiree held, as usual, at the Holiday Inn, Middle Fiskville Road, Austin ... I'll be showcasing on Saturday night, September 29th ... the showcases are open to the public, come on by ...
July 22, 2018
After a delightful little California run I'm back in Santa Fe recharging a bit ... been immersing myself in what is, for me, roots music ... makes sense ... the gig at the Providence Folk Festival next month will be the official start of the 2018/19 "Fifty Years In" tour ... after watching an old Lightfoot concert on YouTube, I've been rabbit hole time travelin' ... next up is a really young P, P & M "Puff" ... fun to watch the audience ... ah, but we was so much older then ... and nobody moved like Mary... then there's a cool Pentangle tune, first incarnation of Bert Yansch, John Renbourne, Jaqui McShee, Tony Cox & Danny Thompson ... saw John and Jaqui at a festival in Minnesota a few years back ... i was really impressed with the way John removed his teeth and put them in a glass before he started playing ...of course, then they just killed ... it was great to hear them ... then some Sandy Denny ... yeah, hard not to fall in love ... more Pentangle then Judy Collins singing Sandy's "Who Knows Where The Time Goes" ... this old folkie stuff is at the root of any music I've ever done ... even the Swamp Band ... strong roots ... run deep ... obviously ... see you out there ... not close to
done.
Click here to see the old folkie video footage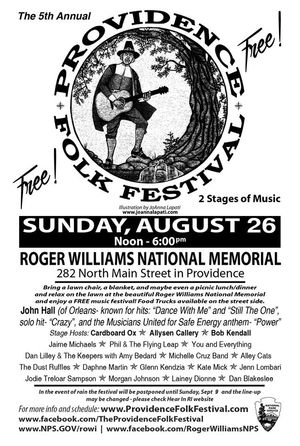 JUNE 28, 2018
CALIFORNIA HERE I COME!!!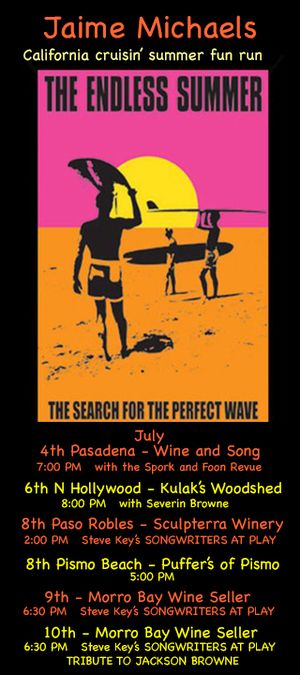 MAY 19th 2018
NEW VIDEO!!!
Look to the column on the left for a link to a concert recorded on my last visit to Florence, Italy, in December.
APRIL 26, 2018
Good day, all!
Here's an update on some upcoming shows looking into the summer
  May 11 - Tucson, Arizona - Borderlands
  May 24 - June 4 - I'll be in Kerrville, Texas for my annual visit to the Kerrville Folk Festival.
    May 25 - I'll be hosting the Ballad Tree on Chapel Hill from 3:00 til 5:00
    May 26 & 27 - I'll be one of the judges of the New Folk competition along with BettySoo and Pierce Pettis
    May 28 - I'll be playing a mainstage set with guitarist Jack Williams at the Threadgill theater, splitting the evening with old friend Joe Jencks
   July 4 - back to Southern California and a set in South Pasadena at Brad Colerick's "Wine and Song" showcase
   July 6 - Kulak's Woodshed - North Hollywood, California - First Friday with SEVERIN BROWNE
   July 8 - Paso Robeles, California - Sculpterra Winery - Songwriters Showcase 2:00 PM
   July 8  Pismo Beach, California - Puffers of Pismo - 5:00 - 8:00
   July 9 Morro Bay, California - Morro Bay Wine Seller - 6:30
   July 10 Morro Bay, California - Morro Bay Wine Seller -- JACKSON BROWNE TRIBUTE
   August 26th - Providence Folk Festival
   September 23 - New Braunfels, Texas - NB House Concert
more dates coming!
APRIL 11, 2018
My my, where does the time go?
Good things to report this week.  The recording I made with Jono of Townes Van Zandt's "Snowing On Raton" came out great and will be the first track on the 32 song Townes tribute album being released on the Italian label Appaloosa Records on April 21st.  It's a great collection of artists and I am honored to be there along with the likes of Joe Ely, Terry Allen, Malcolm Holcomb, Sam Baker, Slaid Cleaves, Jono Manson, Radoslav Lorković, Gurf Morlix, David Olney, Chris Jagger, Paolo Ercoli, Jeff Talmadge and many many more ... pretty amazing company to find myself in ....
Next month I'll be traveling to Tucson for a couple of shows followed by a long wonderful visit to the Kerrville Folk festival where I'll be making a main stage appearance at the Threadgill Theater on Monday, May 28th (along with Joe Jencks) ... I'm also one of this year's New Folk Competition judges along with BettySoo and Pierce Pettis ... can't wait!
July is going to find me on the left coast doing shows in California ...
And work continues on the next album called "if you fall"
Boy O Boy, some fun!!!!!!
 
Feb 27, 2018
Good things are coming together ... later this week (Thursday March 1) I'll be recording a segment of Art Fusion radio show recording at Artisan's Santa Fe store on Cerrillos Rd for broadcast on the 3rd. Stop on by and say hello!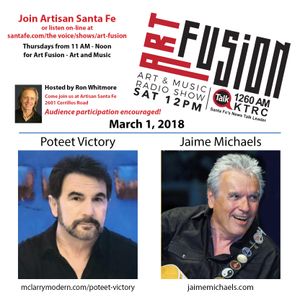 February 20, 2018
A whole new year awaits! And it's off to a great start ...
First off, 2017 ended on an absolutely delightful note, the tour of Italy with Paolo Ercoli and Radoslav Lorković was a big success ...
Big thanks to Andrea Parodi, Pomodori Music and Appaloosa Records ...
I'm back in Santa Fe now writing a new album tentatively titled "Carnival Town" ... the songs are coming along ...
Also spent some time this week in Jono Manson's Kitchen Sink Studio recording a cover of Townes Van Zandt's "Snowing On Raton" for a Townes tribute album coming out this spring in Italy on the Appaloosa label ...

Here's a pic from the session ... Terry Allen and Jono were recording tracks, too ... Mark Clark on drums, Jon Graboff on pedal steel and Ronnie Johnson on bass ... a great time!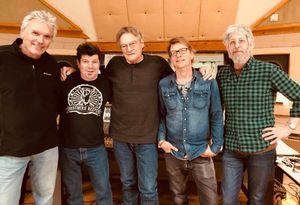 More news coming soon about gigs, festivals, new songs and a new blog called "one boy's radio"

November 20, 2017
Here are the dates for my upcoming tour of Italy with Radoslav Lorković and Paolo Ercoli
Thank you Andrea Parodi, Pomodori Music and Appaloosa Records!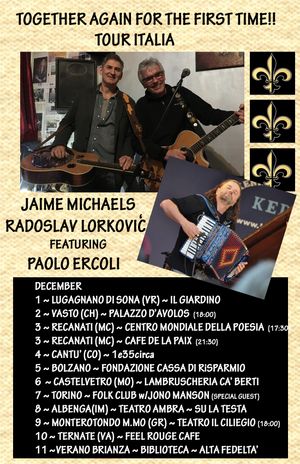 November 12, 2017
HAPPY BIRTHDAY TO ME!!!!!!
Here's a video sent today from Italy
It's Jono Manson and I performing my song "Angelus" at the International Townes Van Zandt Festival
August 15, 2017
Dateline Lyons, Colorado ... back for my annual visit to the Rocky Mountain Song School ... attending some classes, writing new songs! ...hopefully a new album next spring ... and so it goes (insert very happy face here)
June 27, 2017
Heading for some shows in Southern California this week
  July 1 - Borderlands - Tucson, AZ
  July 5 - Wine and Song w/ Brad Colerick - South Pasadena, CA
  July 7th - Oakwood House Concert - Idylwild.CA
  July 8th - Fiddler's Dream - Phoenix, AZ
as always, every and all venue suggestions welcome ...
May 22, 2017
HOT DAMN!!!
"warming" won Song of the Year and "once upon a different time" won Album of the Year at last night's New Mexico Music Awards!!!
Thank you vey much!
April 6, 2017
Here is a video of me performing "Snowing on Raton" at the International Townes Van Zandt Festival in Italy this past January along with Paolo Ercoli, Claudia Buzzetti and, my partner in occasional crime, Jono Manson ...(thanks Darota Drodziel)


April 4, 2017
Happy to report that "once upon a different time" has been nominated for three New Mexico Music Awards!
"Best Americana Song" for the title track, "Best Song" for the climate change themed "warming" (really proud of this one as a writer) and "Album of the Year" ...
Watch this space for updates

March 25th, 2017
Yay, I'll be hosting the Ballad Tree at the Kerrville Folk Festival on Saturday June 3rd ... come on up to Chapel Hill after the New Folk Concert ...

February 8, 2017
The tour in Italy was a grand success ... big thanks to Andrea Parodi and Pomodori Music & the gang at Appaloosa Records ...
Special thanks to Paolo Ercoli!!!!
 
Jan 6, 2017
** ITALY TOUR UPDATE - DATES ARE FILLING IN FOR THE UPCOMING TOUR
    THANK YOU POMODORI MUSIC & ANDREA PARODI
    CHECK OUT THE TOUR PAGE
******
Here's some new video
"live from the kitchen sink"

reviews are still coming in for the new album...here is an exerpt from a reviewer in the Netherlands:
"Michaels writes beautiful, philosophical toned, poetic songs...he sings beautifully & the arrangements are stunning...An absolute must!"
Holly Moors - moorsmagazine.com

**************************

a few nice reviews are coming in for the new album
read 'em here:
theAlternateRoot.com

Roots Music Report
 
(speak Italian?)
Roots Highway
 
(speak Belgian?  or maybe Dutch?)
RootsTime

thanks for the kind words!

*****************************

ALBUM NUMBER 10 IS HERE!!!!!!!!
Right on schedule, Jaime has released his 10th album in the past 20 years.  This one is called "once upon a different time", with all songs written by Jaime...mostly new tunes with a couple of re-recorded favorites.  Once again Jono Manson is the producer (their 9th project together) with the bulk of the recording tracked and mixed at Kitchen Sink Studio in beautiful downtown Chupadero, New Mexico.

Jaime was joined in the studio by his regular team of players, guitarist Ben Wright, bassist Josh Martin and drummer Mark Clark.  They are joined by special guests including keyboardist Jason Crosby (Phil Lesh and Bob Weir), singers David Berkeley and Melissa Greener, mandolinist John Egenes, banjo player Sam Armstrong Zickefoos, Round Mountain's Char Rothschild, bassist Justin Bransford and NYC sax man Craig Dryer (with Jono sittin' in on guitar and vocals).

The album is available now on Appaloosa Records (Italy) and frumdahart/con artisti (USA)
CDBaby  iTunes  Amazon.com  Appaloosa Records (Italy)


(One of the rerecorded tunes, "winter song", was released in Europe on a holiday compilation put out by Medicine Show Records....you can check it out by clicking HERE...)

***************************
Jaime was recently chosen for an "honorable mention" in the 2015 Telluride Troubadour Contest

***************************
"unknown blessings" won three awards at the 2014 New
Mexico Music awards, "album of the year", "song of the year" (for dirty wine, a co-write with Annie Wenz) and the Norman Petty Producer of the Year award for Jono Manson

***************************
"unknown blessings" has raised thousands for the Kerrville Folk Festival Foundation's Music Camp for Teens
This one is an album of cover tunes (Jaime's little tip o' the hat to his all time musical hero, Tom Rush).   The album is called "unknown blessings" and features songs written by friends with whom he shares a love for the late night campfires and song circles at the Kerrville Folk Festival.  The album was released at the 2013 festival where Jaime played an in-the-round concert with Rj Cowdery, Annie Wenz and Dan Navarro. 100% of the money from the sale of the album will be donated to the Music Camp for Teens that the festival runs in conjunction with the Kerrville Folk Music Foundation. The CD is available now at Nimbit.com and  iTunes. 

Jaime has recorded songs by written by Dan Navarro, Jack Hardy, Drew Nelson, Greg Trooper,  Pat Maloney, Rj Cowdery, Joe Crookston,  Amy Speace, Caroline Aiken, Ben Bochner, Chad Elliott & Jeff Talmadge.  The album also contains two co-writes, one with Annie Wenz and one with Mare Lennon.  He's being backed by two of Santa Fe's best players, Ben Wright on guitar and Josh Martin on upright bass with special guest appearances by England's George Breakfast, singer Larkin Gayl, Texas accordionist Joel Guzman, Austin's Albert & Gage, New Zealander John Egenes on mandolin and dobro, father-son team Jeff Scroggins (banjo & Tristan Scroggins (mandolin), percussionist Mark Clark, pianist Chris Ishee, banjoist Tom E Adler and vibist Angela Gabriel.  Once again, the whole shebang was recorded and produced by Jono Manson who also puts in an appearance (this is their 8th album together).
 
You can help, too!!  To sponsor a kid to the Music Camp for Teens go to - www.tfmf.org